If you're hungry for pulse-pounding action, brilliant fight choreography, good characters and a straight-forward and fairly basic story, "Extraction" starring Chris Hemsworth on Netflix is the perfect movie to sate your appetite.
"Extraction" doesn't exactly break any new ground in terms of story and plot. Gangster's son is kidnapped by another gangster, Hemsworth's Tyler Rake – a painkiller-popping mercenary with a death wish because his son died – is hired to retrieve said gangster's son and we're off to the races. It's worth mentioning that Rake is a John Matrix-level badass, but unlike Arnold's legendary commando, Rake isn't virtually invincible. The main plot is pretty tried and true, and it works here. There are a couple of subplots that are a bit more compelling, including young Farhad who wants to prove himself to the evil gangster and Rake's Indian counterpart Saju, played brilliantly by Randeep Hooda. Saju's arc felt similar to Silvio's in "Sicario," thus it felt a little predictable, but it was still well portrayed.
While the plot itself isn't too beefy, it's the performances that really standout, especially Hemsworth and Hooda. Hemsworth has been varying his roles between comedy and action in recent years and they both play to his strengths. He's also strong in the military-style roles – he was great in the underrated "12 Strong" – and he's taken on a lot of good roles outside of his most famous and recognizable role in the Marvel Cinematic Universe. Rake's motivation and desire to take risks is a familiar action trope, but Hemsworth really digs in and about mid-way through you really do feel Rake's anguish.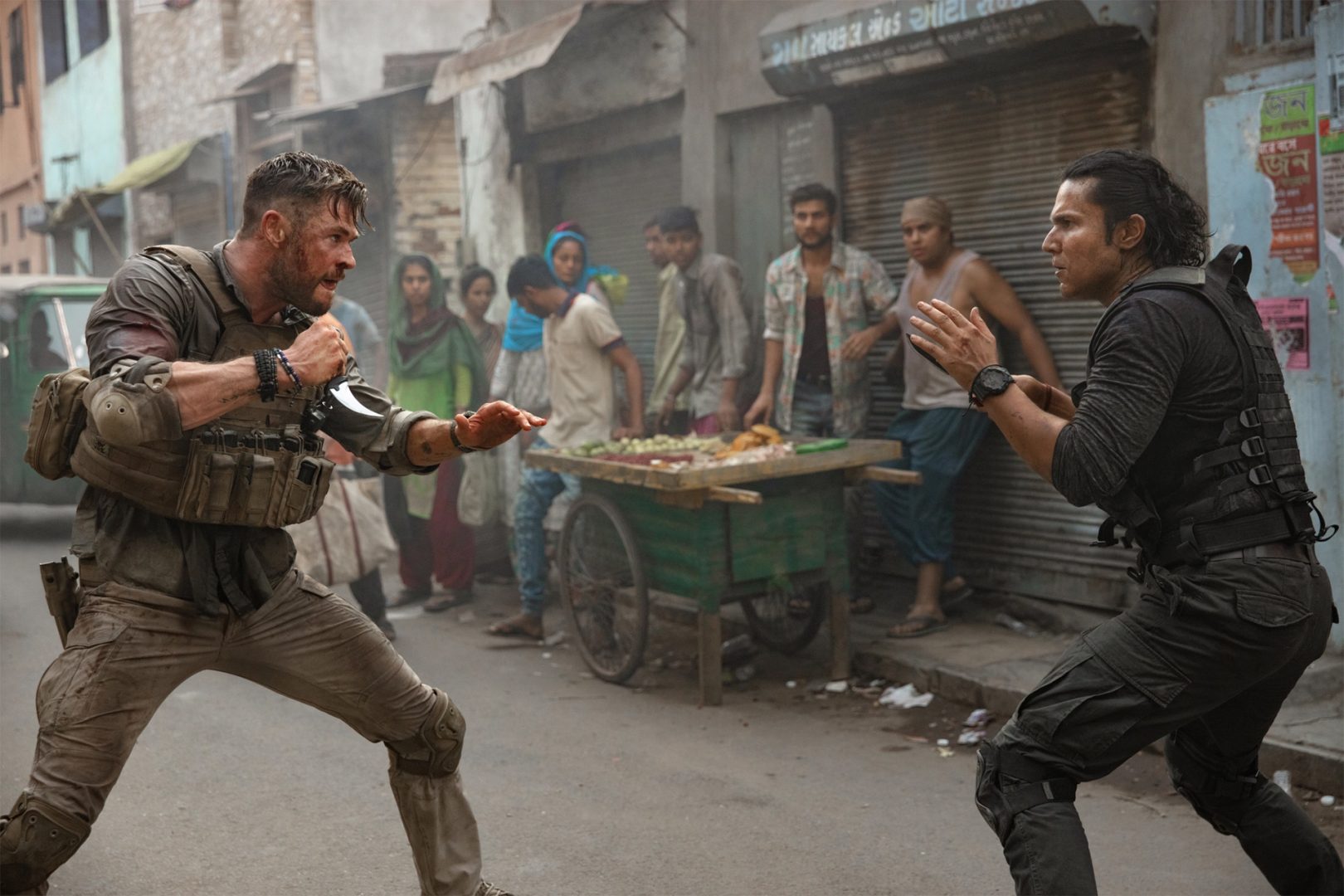 I wouldn't be surprised to see this as a real breakout for both Rudhraksh Jaiswal – who plays the gangster's son being extracted – and Suraj Rikame as Farhad. I also got a kick out of David Harbour, who ultimately served as the catalyst to solidify Rake's moral compass. I've also seen Golshifteh Farahani in a few Western films and it was a delight to see her here, especially in a role that is yearning to be expanded and further explored.
The true highlight of "Extraction" is undoubtedly the action. It's fast-paced, crisp, easy to follow and brilliantly choreographed. At times it's downright brutal, and while that does bring it teetering at the edge of gratuity and occasionally dipping its toe, it's done in a fashion that is both fresh and a bit over-the-top. One scene in particular that stood out was when a group of kids led by Farhad try to fight hand-to-hand with Rake. You typically don't see this kind of sequence with kids involved, but it works extremely well here and also does an excellent job highlighting the cruelty of the film's world. Director Sam Hargrave does a great job putting this world together and he's definitely got the ability to take on major action sequences and set pieces. I look forward to seeing what else he does in the future.
Action movies finally moving away from the fast-paced quick cut fight scenes of the "Bourne" franchise has been something I personally have welcomed. It's becoming standard once again for the audience to see all the action – and the sheer brutality of it at times – and "Extraction" is really a full embracing of that.
"Extraction" doesn't break new ground in terms of plot, but that's easily overlooked by a strong cast, killer action, great pacing and an ambiguous ending that make sense. If action movies are your thing, "Extraction" is a good way to spend a couple hours and even a few rewatches.