I finally got around to watching "Birds of Prey and the Fantabulous Emancipation of One Harley Quinn" or "Harley Quinn: Birds of Prey" or "Birds of Prey." I'm not knocking the movie in any way but naming all of the titles, just pointing out the most epic movie-naming blunder of an otherwise good film since "Edge of Tomorrow" or "Live. Die. Repeat." That said, Birds of Prey is a fun, stylish and very comic booky romp that deserved a better title, release date and a bigger box office. Bottom line: "Birds of Prey" is a stylish, fun and enjoyable romp bolstered by a stellar cast who seemed like they were having an absolute blast.
The premise of the movie is pretty simple. Harley Quinn has broken up with the Joker and sets out in her own in Gotham's crime-ridden and Batman-less East End. She lives it up until she drunkenly blows up Ace Chemicals in the ultimate display of liberation from Mr. J. This puts a target on her back and the stories of Renee Montoya, Black Canary, Huntress and Cassandra Cain come together with Harley centered on a valuable diamond needed by Roman Sionis/Black Mask to crown himself the new godfather of Gotham.
Of course, while this Harley looks and sounds like the Harley we saw in "Suicide Squad" and is brilliantly portrayed again by Margot Robbie, it remains mostly disconnected from that film and the now-defunct DCEU. This plays into the film's favor because like "Aquaman," "Wonder Woman" and "Shazam!," "Birds of Prey" can live completely on its own, only pulling on those threads when needed. I like this approach quite a bit.
There are a few elements of "Birds of Prey" that really stand out for me. First is Ewan McGregor. He is absolutely fantastic as Roman Sionis. He owns every scene he's in, he's just over-the-top enough to really capture the essence of a great comic villain, but he's also completely crazy in all the right ways. There's a lot of fun to be had between him and Chris Messina's Victor Zsasz.
The second is Jurnee Smollett-Bell as Black Canary. I'm a big Green Arrow fan, so I've got a special place for Canary, and we've been treated to a few different incarnations of the character in live-action thanks to the Arrow-verse. However, Smollett-Bell gives us a great foundation for a potentially expanded future for this version who is reluctant to actually be the Black Canary as it's hinted that her mother died doing just that. Smollett-Bell really does an extraordinary job with the full range of emotions Canary feels and her own difficulty grasping with her overall role in everything taking place. She also gets the big hero moment with a full display of her powers which was fantastic.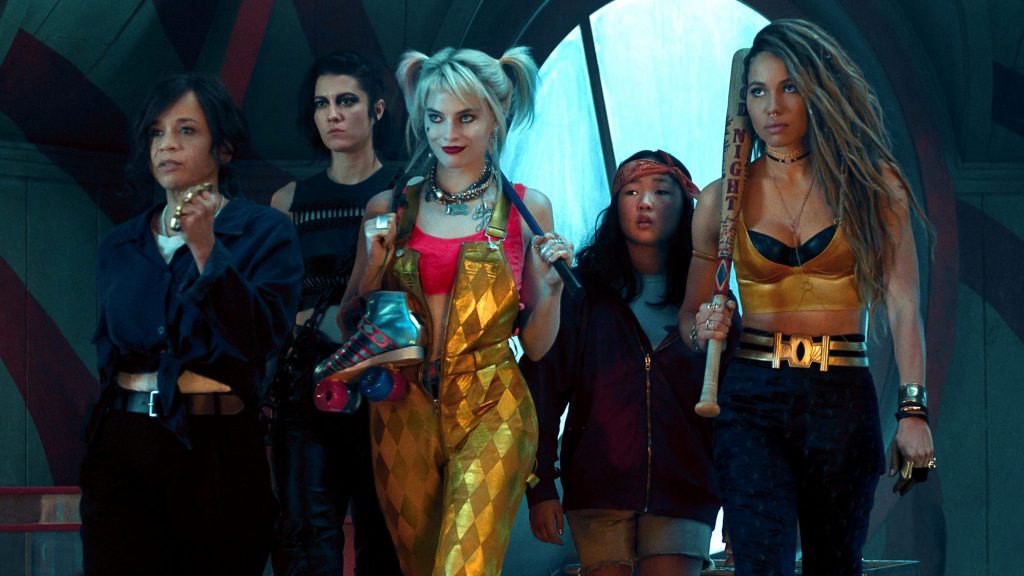 The rest of the cast is also fantastic. Margot Robbie, of course, is perfect as Harley and she'll forever be the standard-bearer for the character. Also, who doesn't love Rosie Perez? She's a great Montoya here. There was much fervor over Ella Jay Basco being Cassandra Cain because in the comics the mute assassin-turned-Batgirl is wildly popular in that role. It really doesn't matter what her name is here, she's not the same character from the comics, but the character portrayed is great for the film.
I am a bit torn about Huntress. I really like Mary Elizabeth Winstead and she's great here, but the character just didn't click for me overall. Huntress could have used a little more screentime or development and for me, much of the comedic chord intended just didn't strike on the first viewing.
The cast also seemed like they were having an absolute blast making this movie in every scene and when you get that vibe from a movie, it really helps elevate it.
The film's tone is just fun. Its over-the-top when it needs to be, it feels like a comic book and it's colorful and stylish. The action is crisp and fresh and that definitely works in the film's favor.
There was some question about whether or not "Birds of Prey" should have been Rated R. I've seen and even made the argument (yes, even before seeing the film), that an R-rating would deter younger audiences as opposed to a more common PG-13 among comic book films. Whether or not this theory bears fruit requires a bit more research, but I did feel the movie couldn't decide which it wanted to be either. There are moments where the violence is definitely R-rated, but there are also moments where it's standard PG-13 stuff. There are f-bombs throughout, but those could easily have been kicked to the curb as well as some of the more gruesome violence that was so inconsistent that when it did happen, it felt gratuitous.
Overall, "Birds of Prey" is a good time. The performances and style of the film elevate it beyond my own criticisms and it's definitely worth putting on your watch list.